Nationwide ICOM digital two-way radio network delivers clear and reliable communications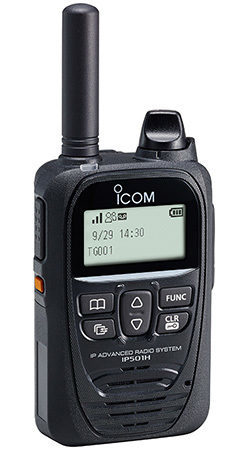 Icom's new PoC (Push-to-Talk Over Cellular) radio system allows you to communicate with your two-way radio system over a 4G / LTE closed network.
Icom's new PoC radio system provides full duplex nationwide area communication using a 4G/ LTE closed, private network and instantaneous communication with PTT operation. The PoC radio system will fall back to a 3G network if 4G is unavailable. The closed system will operate from a private LTE mobile data network providing an extra level of security. 'Individual calls', 'Group calls' or 'All calls' can be made the same way as a conventional two-way radio.
Icom's LTE POC (Push to talk Over Cellular) radio system is designed to deliver the very best features from LTE and radio communications.
The IP501H uses 4G/LTE mobile phone network as its back bone infrastructure allowing communication outside of your traditional limiting RF radio coverage. This can include country and worldwide roaming to continue your conversations as if you were still around the corner. The PoC radio system will fall back to a 3G network if 4G is unavailable. These devices roam between Vodafone / EE and 02 to ensure the very best coverage.
We have these devices available in our hire Fleet, have a look at our case study with the radios in use on the Dartford Half Marathon on the Icom UK Website:
https://www.icomuk.co.uk/categoryRender.asp?categoryID=4007&cCID=1785

We used the devices this year for the Pilgirms Hospice Moonlit walk in Ashford, find out more with our case study on the Icom UK Website
https://icomuk.co.uk/Icom-LTE-...
The East Kent Ride Client Review April 2019
We have used Kent PA radios for years and the service has always been outstanding. Our requirements have been met and we have repeatedly been pleased with the radios and ability to communicate. We have a very large event which is a sponsored ride, where horses and riders travel a 12 mile route on the Kent Downs. This leaves a very challenging venue with regards to communication. A lot of the places where jump judges or course stewards are you would not even get a mobile phone reception (i can hardly believe these places still exist) We had an injury one year and my arrival with a radio meant i could radio back to the secretary tent and ask them to call an ambulance which none of us could do at the scene due to no phone signal. This year we were delighted to try some new radios that Kent PA have introduced. They have revolutionised conversation (at least for us) as we were able to communicate with each other across vast fields and high hills and dense trees. This was hugely reassuring for us as organisers. They had clear signal, were easy to use and were very smart. Thank you for another great service and we are so excited about having more of a stewards with long-range radios next year!